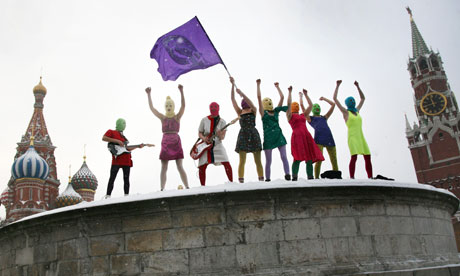 On Friday, the three members of Pussy Riot who have been in prison since March were detained for another six months by the Russian Authorities. They face seven years in jail. Puts the Bill Grundy episode into perspective doesn't it?
A quick primer for those of you who know about Pussy Riot: they are a Russian punk collective who stage flash performances in Moscow wearing dayglo dresses, tights and balaclavas. Their music, they claim, is inspired by the Oi movement bands like 4-Skins, Angelic Upstarts and Cockney Rejects. Ouch, I hear you say and I don't blame you - although I get the feeling the latter are due for a reappraisal after Punk Britannia and a forthcoming documentary about them made by the team who made Oil City Confidential.
But actually, Pussy Riot's music is more interesting than an Oi rehash. Here's a song, which has more in common with early 90s Riot Grrl bands like Huggy Bear. It is genuinely exciting stuff.
However, the music is not the most important thing about Pussy Riot. The band (or collective; it's difficult to make a distinction but perhaps a useful model would be 70's Crass) have a distinct political agenda. They are all former Humanities students who came together to protest in the wake of the December elections in Russia. They like a lot of Russians massively disillusioned with a corrupt and broken system. Back in March they staged a protest in the Cathedral of Christ the Saviour, the church near the Kremlin where Putin and various other dignitaries go for their services. They performed a song called Virgin Mary, Mother of God, Expel Putin which was filmed and quickly put on Youtube. As usual. it was shot and edited by their own team of video makers to maximise the impact of their performances. Here it is.
What happened next completely validates their protest. Three members of the band, Maria Alyokhina, Nadezhda Tolokonnikova, and Ekaterina Samutsevich were arrested on charges on hooliganism the day before Putin was re-elected. Despite an outcry - particularly because two of the women are mothers of young children - the Head of the Russian Orthodox church, Patriarch Kirill, showed no forgiveness: "the devil laughed at us" he said, of the band's cathedral performance. That's the sort of review Lemmy would kill for. Since then there have been benefits performed by Beastie Boy AdRock, UK punk bands and other artists all over the world. There is also a Free Pussy Riot campaign now to get the girls released which accepts donations.
But then as I said earlier, last Friday (20 July) the three girls were detained for another 6 months by the Russian authorities despite Amnesty International campaigning for their release since April this year.
So what now? I don't blog about politics as you know, but it seems to me that Pussy Riot are exciting for all the reasons that made punk originally so appealing: they have something to protest about and they are doing it in a stylish way. What's more, they're not protesting about being bored or having no furture; they are directly and bravely addressing what is wrong with their society. So to recap: the music is exciting, the goodwill is there and the band look great. From the point of view of a manager, promoter or record company this is surely gold dust. Let's get them a record deal! OK, the downside is that three of them are behind locked doors but surely the remaining members of the band could go on tour and use the money and publicity to further the cause. There are bands out there currently trading on a name with less original members for no cause worthier than their own wallets.
Plus - and here's the big one - of the three girls currently detained, one of them looks like a total star - see if you can spot her:



There are already fanboy sites and Youtube video homages to Nadia Tolokno.



I am not in touch with many remaining A&R people out there and anyway, my recollection of political awareness in A&R departments, is that most were more familiar with Roman Abromovich than Vladimir Putin, but Pussy Riot to me seems like a no brainer. Although now of course I have combined the dreaded words No and Brainer (applied by my last MD to such dead certs as The Twang and the Wombats) and thus have tempted the fate of the unrecouped advance.

Anyway, something needs to be done. What I propose to anyone out there with the budget and the marketing department is that all the Pussy Riot master tapes so far need to be collected, appraised and the best tracks should be mixed, compiled and mastered into a short, aggressive album - with English translation of all the lyrics in the package. It needs to be made available online in all formats including vinyl and there needs to be a single, possibly with additional production and by a producer du jour - that of course, would be Paul Epworth. Just a flourish of syncopation and a light dusting of electronic squeak should work.

If Pussy Riot were to have a hit - and let's face it, the marketing is already done - their cause would quadruple in awareness overnight and the pressure on Putin and his chums would put the oligarchs in an even more awkward position.

And punk rock would finally triumph. Come on!